Purchase Terms
ArtScope – is a shareware. Price includes support via e-mail and all updates up to the next version 3.xxx.
| | | |
| --- | --- | --- |
| ArtScope licenses | Price for the license | Price for upgrading from version 1.xxx to 2.xxx |
| 1 license | 18 USD. | 12 USD |
| 2-9 | 12 USD. | 8 USD |
To download and try the program follow the link.
AllSoft
Registration
Confirmation with Registration key will be sent to you by email in no later than 48 hours after the payment was made. Run the program and press F11, switch to tab 100 years, then enter the Key into the corresponding field, and press ENTER.

After about a minute you should receive confirmation of successful registration.

Unbind.
You may need to transfer the license from one PC to another, say new and more powerful. In order not to lose the license (and money) you need to release the license on the current PC (which is now installed and running the program ArtScope).
To do this, press F11, a form will appear, enter your registration key for this program, and click Unlink.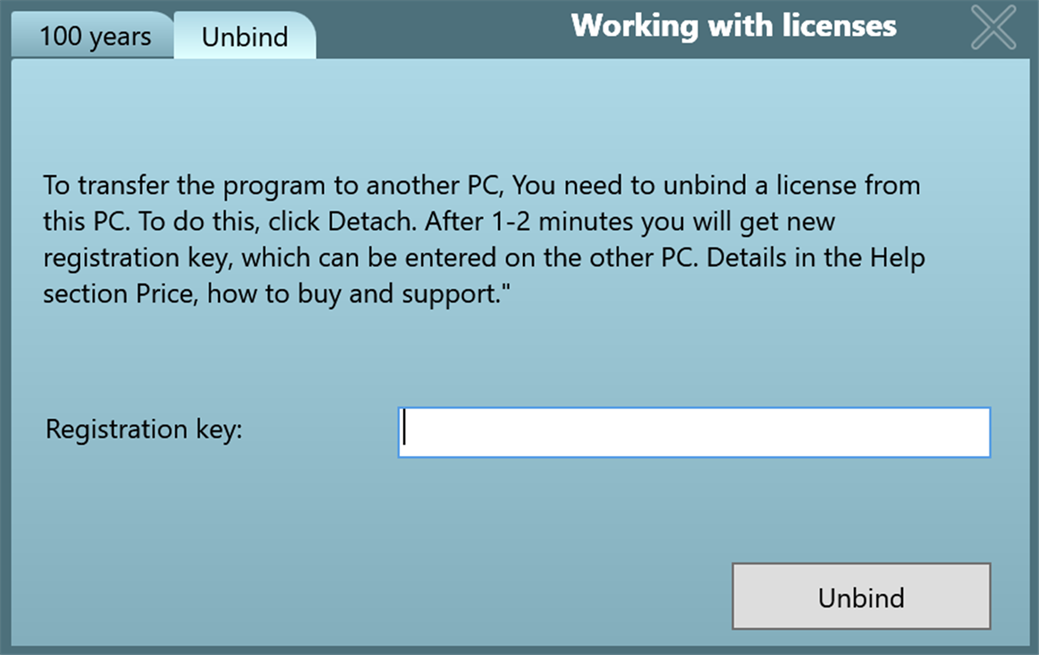 After 1-2 minutes, you will get new registration key, which you can enter on a new computer. The program on the current computer will go into demo mode.

As you can see from the message, new key is also stored in the file ArtScope.txt in the folder c:\Users\Public\Documents\ArtScope\License\.
Upgrade policy
Upgrade is free for all users of the purchased version of the product up to the next version 3.xxx.
Contact us
If you have any suggestions, comments or wish to share your work, contact us.
Kaleidoscope download now...   Download ArtScope – art game in the Kaleidoscope