Quick start
Run ArtScope. You will see the welcome window (menu) in the center of the screen.
1. Select any project (animation) – sample1 - sample7, sample1 for example. Then, click Play button -
, slightly move
 left and right slider, then
.


2. Press Ctrl + N - the screen will become clean, add any image by clicking
, move the slider bar
. Press Play button
, slightly move the sliders
 and
.


ArtScope functionality
Six layers to create a beautiful image. Four layers to create animation.
Animation in layers 2 and 3: scaling image tiles, opacity tiles, rotation of the layer and image tiles. Option to create a symmetric/non-symmetric pattern. Option to turn on/off the odd sector. Smooth change of images, i.e. smooth transition from one picture to another.
Option to modify the number of sectors in layers 2 and 3.
Option to create symmetrical pattern.
Option to create a pattern with opacity.
Option to change sector's height in layers 2 and 3.
Option to change sector's geometry in layers 2 and 3.
Option to view list of images in all layers.
Auto upgrade.
Elegant and easy interface.
For more details, click – Creating kaleidoscope.
System requirements and Installation
Operation system: Windows XP/Vista/Windows 7/8/10 (x86/x64) + Microsoft .NET Framework 4.
To install ArtScope, you need administrator privileges. Download the distribution file and run it. During the installation, the application may require Microsoft .NET Framework 4 Client Profile (Standalone Installer) 4) . Agree and continue. After installation, you will find on the desktop icon
 to run the program. In addition, the program can be run as usual Start/Programs/HelpSoft/ArtScope. When you launch ArtScope at first time, the program will create a temporary license for full 7 days.
What is new in the version
1.98.672 New
Fixed bug when working with 3 layers.
Added button
 to toolbar and near "Minimize" button to open menu - welcome (F12).
Many of the controls have been updated.
Updated help.
1.98.353
Added parameter to resize main window.
Added the possibility to transfer a license from one (old) PC to another (new).
Controls settings button (F2) is added
 on sliding panel (toolbar).
Image's display time in layers 2 and 3 has changed from 0.5-32 to 0.5-120 sec.
Copy settings from L2 to L3/copy settings from L3 to L2 (
/
).
Added option to delete images after creating video (F2).
4 parameters for saving the number the image in a layer are added to the project. When the project is loaded next time it will be opened just as was saved.
Documentation and website is extended and updated, a number graphic interface elements are improved, modified some examples.
1.95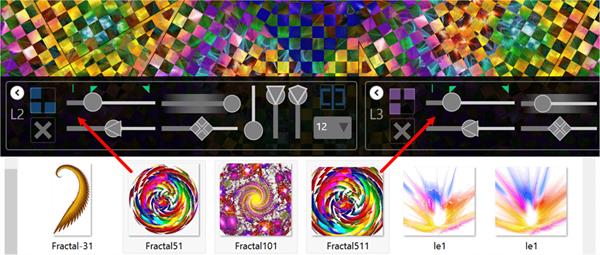 Drag and drop files on the panel instead of time-consuming opening through dialogue.
Select a group of files in Windows Explorer and drag them to the desired panel. These files will be loaded in the corresponding layer and can be viewed by pressing F6. Thus you can upload files in 1st,2nd,3rd, and 5th layers.
Option to change the sectors' alternation range is added.
The button to enable/disable odd sectors is added
Option to specify the path for video creation is added.
New help
Product category
kaleidoscope art, unique design, kaleidoscope drawing, mosaic, yantra, tantras, moving decorative ornament, animated ornament, relaxation, meditation, relaxation, magic, mandala, fractal art, fractal flames, generative art, sacred geometry, neon, pattern, texture, symmetry, sunflower, abstract, background, reflection, futuristic, wallpaper, handmade, handcraft, art-game.
Kaleidoscope download now...   Download ArtScope – art game in the Kaleidoscope